Halloween is just a day away and we all know how candies aren't exactly healthy. What's scarier is the number of unhealthy things that we can eat in just one night without even noticing it. But here in Radiant Peach, I always have alternatives for moments like this. Who said that healthy eaters can't enjoy Halloween?! However, some of these recipes have chocolate… So, don't go eating too much!
Guacamole Witch Dip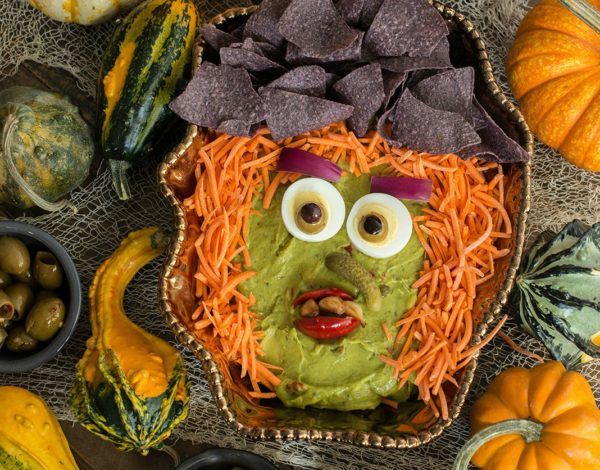 Ingredients:
2 large avocados
1/4 red onion, thinly chopped
2 garlic cloves, minced
juice of 1 lime
shredded carrots (for the hair)
2 green olive slices (for the eyes)
2 black olive slices (for the eyebrows)
2 slices of a mini red bell pepper (for the lips)
1 cornichon (for the nose)
handful blue corn chips (for the hat)
Instructions:
In a bowl, mash the avocado. Add the garlic, onions and lime juice and mix until well combined. Season with sea salt for flavor.
Add the guacamole to the lower half of a serving plate.
Create the corn chip hat first and then add the carrots for the hair.
Assemble the face and serve!
Graveyard Mousse
Ingredients:
For the Mousse:
2

 

ripe avocados

8

 

tbsp

 

cocoa powder

8

 

tbsp

 

maple syrup or agave nectar

120

 

ml

 

dairy-free milk
For the tombstone cookies:
175

 

g

 

/ 1 3/4 cup ground almonds

1

 

tbsp

 

arrowroot powder

2

 

tbsp

 

coconut oil

2

 

tbsp

 

agave nectar

1

 

tbsp

 

vanilla extract

Zest of 1 medium lemon

1

 

tbsp

 

poppy seeds
For the chocolate icing:
2

 

tbsp

 

coconut oil

2

 

tbsp

 

cocoa powder

1

 

tbsp

 

agave nectar

1

 

tsp

 

vanilla extract
Instructions:
For the mouse:
Scoop the flesh out from the avocados and add to a blender, along with the cocoa powder, sweetener, and milk. Blend until smooth and creamy.

Divide the mousse equally and spoon into your serving glasses. Leave in the fridge for at least 30 minutes before serving.
For the cookies:
Preheat the oven to 180c / 350f and line a baking tray with parchment paper.

In a food processor or mixer, mix together the ground almonds and arrowroot powder. Add the coconut oil in a small bit at a time so it's evenly distributed throughout the dough.

Mix in the rest of the ingredients and turn the dough out onto a board.

Roll the dough so it's about 1/4 inch thick and using a small sharp knife, cut out your tombstone shapes. Or, if you have tombstone cookie cutters, even better!

Transfer to the baking sheet and bake for 5-8 minutes until golden brown around the edges. Leave to cool before icing.
For the icing:
Melt the coconut oil over a bowl of hot water. Stir in the cocoa powder, agave and vanilla extract. Leave to cool in the fridge for a few minutes.

Transfer the chocolate to an icing bag with a narrow nozzle, suitable for writing. Test a small amount to see if the icing is too runny. If so, return to the fridge to firm up slightly. Once it's the perfect texture, pipe your RIP letters onto the top of the tombstone cookies and leave to set in the fridge for at least 10 minutes.
Make-A-Monster Trail Mix
Ingredients:
1 (.88 ounce) package candy eyeballs
2 cups mini pretzels
1 cup corn puff cereal
1 cup Os cereal
3/4 cup M&Ms
1/2 cup slivered almonds
1/2 cup pepitas
1/2 cup raisins
Anything else you want, like popcorn!
Instructions:
Pour all ingredients into a large bowl and toss with your clean hands or a large wooden spoon. Done! I like to serve it in individual cups.
Stores for at least a couple of weeks in a zipper bag or an airtight container.
Jack O' Lantern Salad
Ingredients:
For the salad:
4 medium-sized oranges
2 cups green leaf lettuce, chopped
1 stalk celery, chopped small
1 carrot, grated
1/2 red bell pepper, chopped small
1/4 cup peanuts
For the dressing:
3 Tablespoons natural peanut butter, unsalted
1/2 teaspoon toasted sesame oil
2 teaspoons brown rice vinegar
1/2 teaspoon sriracha or hot sauce
2 teaspoons low-sodium tamari
3 Tablespoons water
Salt, to taste
Instructions:
Salad:
Cut the tops off of four oranges about a quarter of the way from the top. Use a knife to carefully cut around the edges of the inside of the orange. Remove as much of the orange flesh as possible and dice it, removing any seeds you find. To clean out the oranges for the rest of the way, use a handheld juicer to juice the oranges and tops. You can drink the orange juice or use it for another recipe. After the oranges are cleaned out, use a small knife to cut jack o' lantern-style faces onto them.
Fill each orange with some green leaf lettuce, celery, carrot, and bell pepper. Top with a pinch of peanuts and diced orange. (You will likely have more orange left over than you need.) Serve with Asian-style peanut dressing that guests can pour on their salads.
Dressing:
Whisk peanut butter, toasted sesame oil, brown rice vinegar, hot sauce, tamari, and three tablespoons of water in a small bowl until smooth.
If the dressing is too thick, add additional water (up to one tablespoon) until the dressing has reached your desired smoothness and intensity of flavor. If the dressing is too thin, add an additional teaspoon of peanut butter. Keep in mind that the dressing will thicken in the refrigerator, and don't add additional water until you're about to serve, if necessary. Taste the dressing and add salt, if needed.
Raspberry Mummies
Ingredients:
750

 

g

 

puff pastry

 

(2 x 375g/15oz package), ready rolled

300

 

g

 

raspberries

 

fresh or frozen

5 

tbsp

 

sugar

1 

tsp

 

lemon juice

3

 

tbsp

 dairy-free 

milk

 

for brushing
Instructions:
Preheat oven to 190C/375F. Line a baking sheet with baking parchment paper (or use the parchment from the pastry packet)
Add the raspberries, lemon juice, and sugar to a pan and heat, stirring often until thawed and the raspberries break up a bit. Reduce the heat and simmer for 2-3 minutes until thickened slightly.
Unroll the pastry and cut one sheet into 6 equal-sized squares, then cut each square in half to make 12 rectangles.
Cut the other sheet of pastry into thin strips.
Spoon the raspberry sauce onto the rectangles, avoiding the outer edge.
Add dough strips decoratively to look like mummies, and gently press the edges to seal.
Brush with the dairy-free milk and bake for 20 minutes, or until golden. Serve warm or cold and decorate with edible eyes
These recipes would be extra fun if you have kids or have friends and family who are kids at heart. Not only that, but they're healthier than your average Halloween treats that consist of nothing else but sugar. Now, all that's left is for you to enjoy Halloween!